Bnovo Finance is a tool that allows you to conduct a complete financial accounting of hotel business. You are able to take both all receipts and expenditures, related and not related to reservations, into account, and also account contributions of founders, payment of wages to employees, and keep track of taxes. All data can be uploaded to Excel which can be edited or forwarded by mail.
The interface consists of 4 tabs:
Register of payments
It reflects a list of revenues and expenses during the period, payments made, refunds and transfers of funds for each of your legal entities.
To add a receipt click the Add receipts button. If the operation should be linked with a reservation:
Find the reservation (search is carried out on any word in the reservation in quick search or indicating the precise information in one of the fields in advanced search);

Choose the reservation
Fill in the payment addition form

Press Save
To add an expenditure click the Add expenditures button. If the operation sould not be linked with a reservation:
Fill in the expenditure addition form

Press Save
You can add or edit cash flow items, for this go to the Settings tab.
You can keep track of all payments by choosing the period, cash flow items and types of payment. It also displays your desk with information about your Current balance (the difference between all incomes and expenditures, that is the rest of the money on hand), income for the period and expenses for the period. The balance of the operation for the period is the difference between the amount of the parishes in the period and the amount of expenses for the period.

Note that you can not create an expense in an amount exceeding your current balance. If the amount on hand is not enough to make the flow, you need to add the parish first.
All payments created in reservations will be automatically displayed in statistics. Similarly, if you have created a payment/an expense for reservation in Bnovo Finance, it will be displayed in the reservation card.
If you have several legal entities, you can choose for which of them to see the register as well as check out a summary report on all legal entities:

Issued invoices
All invoices issued earlier are are moved from tab Tasks-Accounts to this tool. Here is also a column with invoice status and number and filters by an account type (invoice, receipt or online payment, and by payment status).

Debts
Debts tab has also been moved from the section Tasks. By default, there is a list of reservations with a negative balance for the current date of departure. The balance becomes negative, if an amount of payments is less than an amount of services rendered. In this case, you must check the receipt of payment on these reservations and submit information on payments to reservation card, or change your reservation by checking the list of services provided in the account tab in reservation with actually rendered.
Settings
In this section you can add your requisites, create items for register, configure online payment gateways, activate and configure fiscal register.

Requisites
In this section you can enter the details of your property.
Adding information about your legal entity will allow you to issue invoices, certificates of completion, and create links for online payment for guests.
To edit your legal entity details, go to the Requisites tab and edit one of existing legal entities or click on Add new legal entity.

Fill in the form, specify VAT, if you are working with it.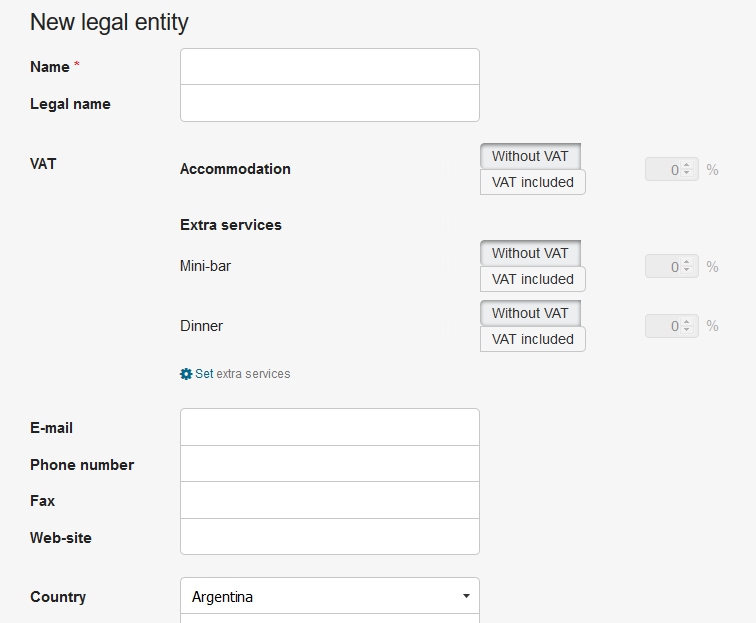 Press Save.
Fields marked with an asterisk (*) are mandatory.
Create items for registry
Here you can edit and create new items of expenditure/revenue. There are 4 preset items: accommodation (can not be deleted or edited), taxes, household expenses and wages (all can be deleted and edited). To add a new item click Add and choose a type.
Payment gateways
In this section you can connect a payment system to Bnovo PMS, then you will be able to form a link for online payment in reservations. To do this, you must have a connection with a payment gateway. You can see a list of payment systems available by clicking on the Add gateway button, also there you can find a brief instruction on the connection.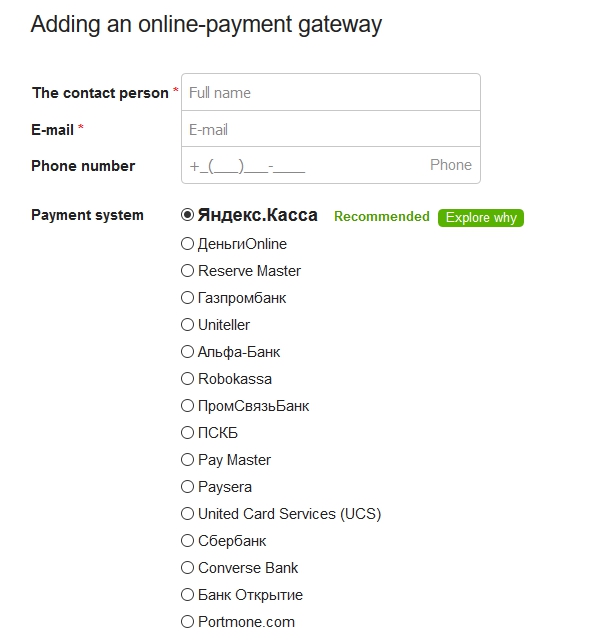 After signing the contract with a bank or a payment system please send a request on a gateway connection via the form of adding a payment gateway.
Please note that Bnovo company charges 15 rubles from each successful transaction of all payment systems, except Yandex.Kassa.
More about the formation of links for online payments and making payments reed the manual.
After setting, you can send a link to a guest, and he will be able pay for the stay at the same instant. Advice of Charge arrives in Bnovo PMS in real time. You will receive a notification on the bell. If you have not activated an automatic creation of payment, you need to manually create the payment and bind it to the account in reservation, then the account status changes to paid or partially paid depending on the payment amount.
To set up automatic payments when you receive online payments:
Go to Bnovo Finance – online payment gateways;
Click the gear to the right of a gateway;
Check the box Automatically add payments.